Access CIM Course Inventory Management.
Search for the course you would like to cross list using the search box. You can enter the subject code to see all courses for a given subject, the subject code and course number to find a specific course, 

Select the course you wish to change. The existing information about that course contained within CIM will be displayed including catalog pages, programs, and other courses that reference the course you have selected. 

Please note that when editing an existing cross listed course, all changes must be made to the home department course. All searches to make changes to a cross listed course will return the home department course which is the only place changes can be made.

To edit the course, click on "Edit Course" (located under the course list).
Navgate down to the Academic Impact section.
Select "Yes" for the question "Is this course cross-listed?" 

A new field will appear that will allow you to select which courses 

will be cros

s listed.       

Select the College, Department, and the Course that you would like to cross list. If the course is new and does not exist in CIM yet, you may add the course through the "Quick Add" Feature.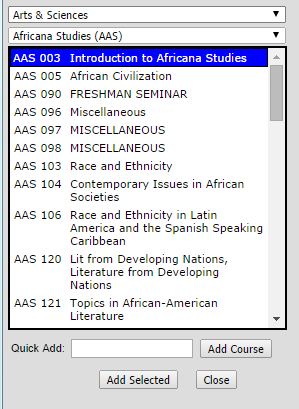 The course will appear as a cross listed course. Please note that if you manually added a new course, it will appear as "Course Not Found" until it has been approved through CIM.
When you have completed your proposed cross listings, click on "Save & Submit" to begin the workflow approval process.